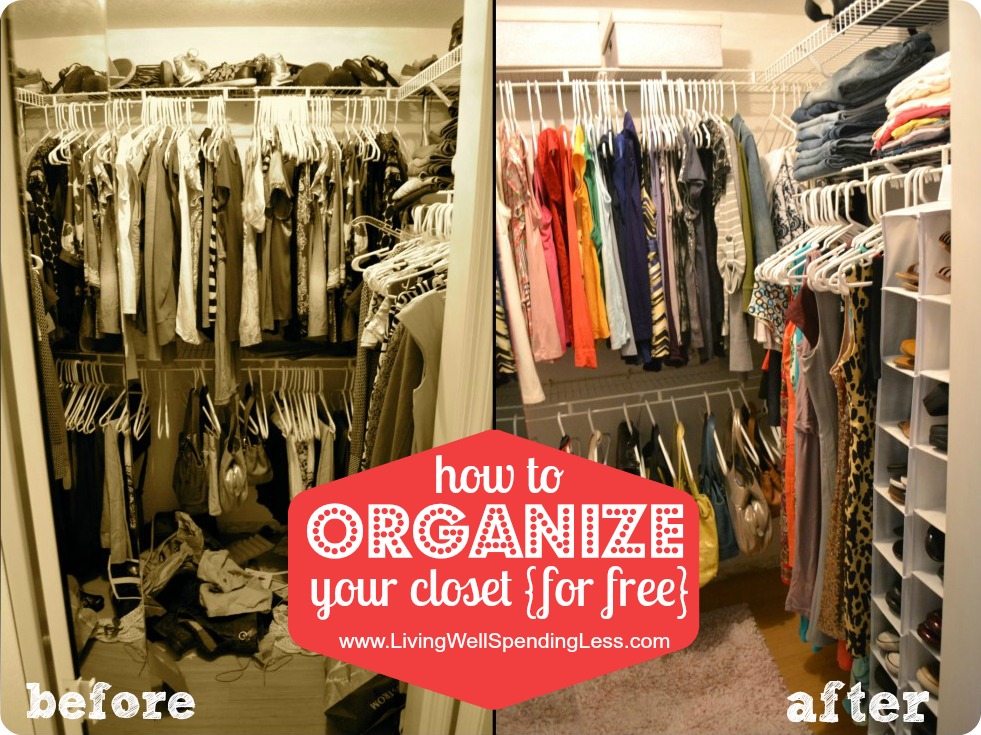 There is no point in owning clothes, purses, shoes, or belts if you can't find them in your closet. Oftentimes, these things go without being worn because you never see them. If your closet is a cluttered mess, it is a good idea to take a day off, and organize your closet. All you need is a chest drawer, a shoe cabinet, and a few tips on how to get your closet organized so that you can maximize your space and see everything that you own.
Throw Some Things Away
For many people, throwing clothes away or donating them can be very difficult. As hard as it may be, it is necessary if you want to make room in your closet so that you can see the things that you will actually wear. You should start with clothes, shoes, and accessories that you have not used in the last two years. If you have clothes that are too small or too large, you should throw get rid of them. If you are dieting or are trying to put weight on however, these items can be kept. When you look at an article of clothing or an accessory, ask yourself if you saw it in a store today, if you would still buy it. If it holds not sentimental value, you should get rid of it.
Find Storage Solutions
Hanging all of your clothes on hangers is not a good idea. Most people do not have enough room in their closet to hold all of their clothes. Also, you can't hang certain items on a hanger. Bringing a chest of drawers for heavy sweaters will help save a great deal of room in your closet. Shoe cabinets will keep the shoes together, so that you are not always searching for a missing shoe. If you have shelves on the top of your closet, you can use small plastic bins to store clothes that are out of season.
Organizing
Different types of clothing would need to be organized and hung in a different way. If you know the solution for each, you will have a more organized closet.
Tops: If you have enough room in the closet to hang all of your tops, you should. If you can see them, you will wear them more often. This will give you a variety, rather than just grabbing for the only ones that are in plain sight.
Sweaters: It is a good idea to keep your sweaters folded properly, so that they don't lose their shape. Using a sweater folding board is a good idea to fold your sweaters perfectly. When storing your sweaters in a chest of drawers, you should store them according to their weight, and use dividers. This way, you will be able to find light sweaters, heavy sweaters, and button down sweaters easily, without needing to pull every sweater out.
Jeans: There are many ways to store your jeans. Some people store by size, some by color, some by cut, and some by style. The most popular way to store jeans is to hang them by the shade of the denim, going from light to dark. The jeans should be hung on a hanger, by the hem.
Slacks, Skirts, and Shorts: These items should be hung in the closet. You should use the hangers with clips. When hanging them, fold in the sides so that the clips don't mark the outside. Also, it will be easier to see what you have.
Dresses: The first thing that you should know when it comes to hanging dresses, is that you should never leave them in the dry cleaning bag. This is true with any type of garment. The chemicals from the dry cleaning will attack the fibers, causing damage. When it comes to hanging your dresses, you should keep the short dresses together with the long dresses. After you have separated those, you should separate the sleeveless dresses with the dresses with sleeves.
Bags, Scarves, and Hats: It is a good idea to keep the purses out of their dust bags. They will not get damaged, and you will be able to see them, making changing bags easier. Scarves should be folded neatly, and organized by color and material. If you have several hats, keeping them in hat boxes on the top shelf of the closet is a good idea. You can take a photo of each hat, and glue it to the front of the box. This way, the hats will be organized and you will still be able to see which hat is in which box.
Shoes: When you organize your shoes in the shoe cabinet, you should keep them separate. One row of sneakers, one row of flats, one row of heels, and one row of open toe shoes. When the shoes are separated, you will be able to find what you are looking for quickly.
Lingerie: Lingerie should be organized by color, size, and type. Be sure to rotate your bras and underwear often. This will prevent you from wearing the same few over and over. Rotating will get full use out of everything that you own.
Jewelry: The best place to store your jewelry is in a built in drawer in the closet or in the dresser. This will keep things neat and it will keep your jewelry out of sight.
When you have an organized closet, dressing each day will be much easier, and everything will be neat and tidy. If you need additional tips, you can view more at www.ethnicraft-online.com.my.