Visiting Melaka soon? For night owls and booze lovers, the small, historical state in peninsular Malaysia offers plenty of amazing places for you to let loose and enjoy the night. Check out these six coolest nightlife hotspots in Melaka that you should go for your upcoming trip:
Bistro Year 1673
Considered to be among the most beautiful bistros in Melaka, Bistro Year 1673 features old world charms of the colonial and Chinese artistry and is located in an old heritage building that has been around for the past 344 years.  Serving multi-cuisines on the menu, you get to savour local and international cuisines on an affordable price tag. With antique furnishing and an open-air courtyard, the bistro has the perfect ambiance to enjoy live band or cultural performances at night.
Address: No. 18, Jalan Hang Jebat, 75200 Melaka
Opening Hours: 12PM – 12AM
Phone: 06-288 1673
Reggae On The River
What could be better than listening to the best reggae music and chilling with your friends than enjoying both by the river? The drinks here are reasonably priced, and you're spoilt with options. From modern reggae to the classics, you get to experience a Jamaican atmosphere here. If you're lucky, you'll get to see beautiful boats during the Melaka River Festival, or cultural performances like the fire show.
Address: No. 88, Lorong Hang Jebat, 75200 Melaka
Opening Hours: 5.30PM – 1AM
Phone: 012-218 7532
Eleven Restaurant & Bistro
For foodies, this restaurant and bistro is the place to savour a fusion of Malaccan and Portugese cuisines. Serving mainly seafood, some of their must-tries include the Portuguese Special Curry Dable Chicken, Deep Fried Squid, Grilled King Prawn, Portuguese Sambal Crab, and Portuguese Haisan Baked Fish. There's a live DJ to keep you entertain all night. Their booze selections are quite good as well.
Address: No. 11, Jalan Hang Lekir, 75200 Malacca Town, Melaka, 75200 Malacca
Opening Hours: 11AM–3AM
Phone: 06-282 0011
The Library
If you prefer a place that is a little more upscale, head to The Library in Jalan Merdeka. Offering a large selection of premium liquor, locally and imported brewed beers, as well as mouthwatering cuisines, the place is even more alive at night.
Address: No. 926 & 927, Jalan Merdeka, Taman Melaka Raya, 75000 Melaka
Opening Hours: Evening until late
Phone: +606 282 3232
Portugese Square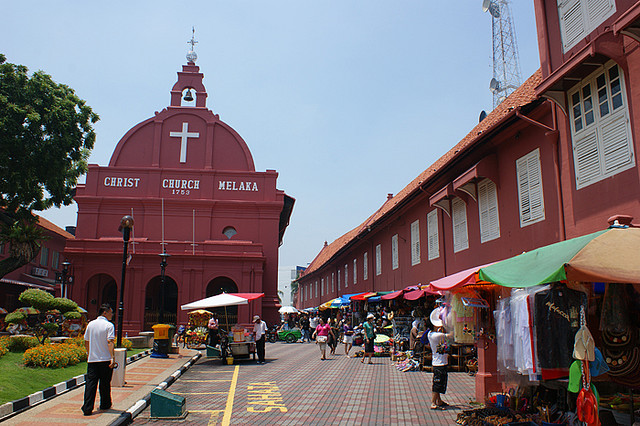 Immerse yourself in the Portugese culture at this vast square located in a Portugese village where descendants of Portugese and Malay intermarriages can be found. The square has plenty of pubs, food stalls and restaurants to choose.
Address: Jalan d'Albuquerque, Off Jalan Ujong Pasir, 75050 Melaka
Opening Hours: 5PM–12AM
Phone: +606 283 6538
Geographer cafe
Another beautiful hotspot housed in a colonial building with old world charms, the award-winning cafe features a traditional, pre-war set-up that makes for a great photo-op or just chilling. Offering drinks that are reasonably priced and local cuisines that would suit anyone's pallate, the corner lot pub is even more vibrant and lively at night; with music blaring through the speakers and the beautiful Chinese lanterns being light up. You can also enjoy the night at their open-air courtyard.
Address: No. 83, Jalan Hang Jebat, 75200 Melaka
Opening Hours: 10AM–1AM
Phone: 06-281 6813
If you're a night owl who loves to be seen at the coolest nightlife hotspots, you should stay at a nearby yet good quality Melaka hotel where you can conveniently go to the hotspots mentioned without having to make a long trip to and from your hotel. Come the end of year, these hotspots are even more alive and vibrant!